Wales could increase its lockdown fines following reports of visitors from England flouting the country's travel restrictions, the First Minister has said.
Mark Drakeford said he was in talks with the country's four police forces after two police and crime commissioners called for steeper charges for those breaking Wales's ban on non-essential travel.
On Monday Public Health Wales said a further four people had died after testing positive for coronavirus, taking the Welsh total to 1,207, while another 101 positive tests brought total confirmed cases to 12,404, although the true figure is likely to be higher.
Mr Drakeford highlighted examples of people ignoring lockdown rules over the weekend, including a family of four from Birmingham caught at Pen y Fan in the Brecon Beacons, and a driver coming from Devon to Brecon to buy dog food.
He also told the Welsh Government's daily Covid-19 press briefing he was "very concerned" about reports of police being assaulted, including being coughed and spat on.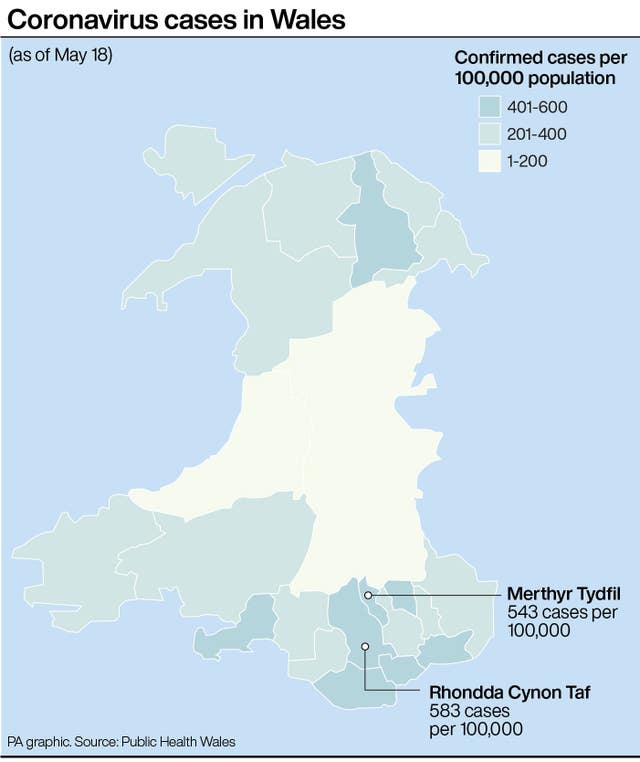 Mr Drakeford said: "All of these are unacceptable, as it is unacceptable for people who live in Wales to travel distances to other parts of Wales.
"Our message is simple: stay at home and stay local because that way we save lives.
"We remain in discussion with the chief constables and the police and crime commissioners about the level of fines in Wales, and I'm very grateful to them for having submitted additional evidence to us, which we will now consider.
"If the evidence demonstrates that there is a problem which can be solved by raising the level of fines in Wales, then of course we are prepared to discuss that with our chief constables."
Fines in Wales begin at £60 and go up to £120 for repeat offenders, but can be reduced to £30 if paid within 14 days.
In England fines begin at £100, reduced to £50 if paid promptly, and can go up to £3,200 for repeat offenders.
It comes after lockdown rules were relaxed in England so people can now "drive to other destinations" and meet one person outside their households outdoors, while in Wales the stricter stay-at-home rules remain in force.
Despite the reports Mr Drakeford said traffic on Wales's roads was "well below" last year's levels, and the number of lockdown fines handed out last week was half of that issued over the most recent bank holiday.