Boris Johnson will face a grilling from senior MPs amid a warning that the "failure" of the test and trace system is placing huge pressure on the health service.
The Prime Minister will be questioned by deputy Labour leader Angela Rayner during PMQs after a turbulent 24 hours in which the Government announced coronavirus tests would now need to be rationed.
As the system struggles to cope with soaring demand, people have been turning up to accident and emergency to ask for Covid-19 tests.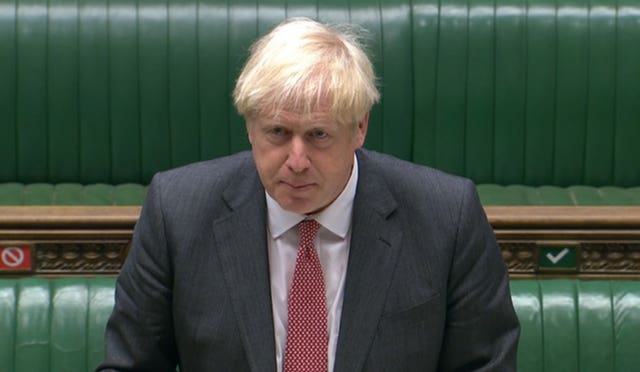 It comes one week after Mr Johnson announced his "Operation Moonshot" plan for mass coronavirus testing of millions of people.
Labour leader Sir Keir Starmer is expected to miss PMQs after he went into isolation while waiting for a test result for one of his children. He tweeted on Wednesday morning that the test had come back negative.
The PM will later face questions from select committee chairs who make up the Liaison Committee.
With his Government facing challenges on multiple fronts, Mr Johnson will be asked about the response to the pandemic, as well as Brexit negotiations and the Integrated Review of foreign policy, defence, security and international development.
On Tuesday, Bolton NHS Foundation Trust said it was managing a "high volume" of patients who had turned up to A&E requesting tests after struggling to secure them online or at mobile units.
Bolton NHS Foundation Trust chairwoman Professor Donna Hall tweeted: "Very busy emergency department today as poorly people unable to get a test come to us for help.
"This is why it's so important to have a functioning testing & tracing system – one day of delays can cause hundreds more infections. This is a very worrying situation for us in Bolton."
Prof Hall also told the BBC: "This failure of the test and trace system is placing huge pressure on the NHS and social care."
The problems in testing appear to have been caused by a surge in demand, leading to laboratories buckling under the strain of trying to process tests.
This has led to testing slots being curtailed as laboratory staff work through the backlog.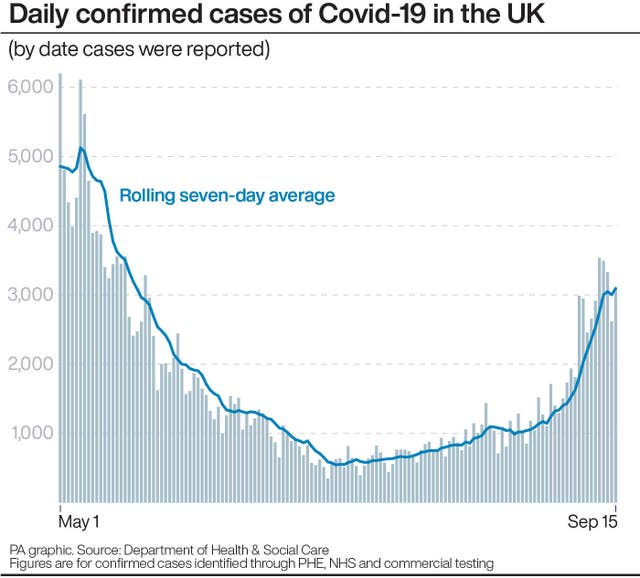 Health Secretary Matt Hancock told MPs on Tuesday it would be "a matter of weeks" before Covid-19 testing problems were resolved.
He announced plans to ration tests, saying there would be "prioritisation" for people with acute clinical need in hospitals and those in social care settings.
Mr Hancock told MPs there had been a "sharp rise" in people coming forward for a test, including some who are not eligible, but Government sources acknowledged there was no accurate data on the latter.
Justice Secretary Robert Buckland defended the Government on Wednesday and insisted that testing capacity was "ramping up" to deal with the demand.
He told Sky News: "I think laboratory capacity has been an issue, we're working our way through that, we're increasing the number of test centres – we've got 400 test centres, getting it up to 500 – but clearly there are still real challenges."
Mr Buckland said the Government's new priority list for testing would be developed over the next few days but suggested school pupils and their families could be next in line after NHS and social care.
He said: "I think what we need to do is have a cascading system where we know where our priority should be, and for me priority should be for children in school and their parents in order to ensure their lives are safe and also importantly they are not disrupted in the way we are seeing."
The founder of Oasis Community Learning, which is responsible for 31,500 children at 52 academies across England, said 1,200 pupils had been sent home over the first six days of the new school year.
Writing in The Sun, Steve Chalke added: "The reason is either pupils or teachers have symptoms and can't return until they get a negative test result."
It comes the NASUWT teaching union said schools are struggling to cope with a lack of Covid-19 tests for pupils and staff.
In a letter to the schools minister, Dr Patrick Roach, general secretary of the NASUWT, said the union had heard of approximately 600 pupils being told to self-isolate in one local authority area and said the "number is growing".
The union leader told Nick Gibb that pupils who have been sent home with symptoms are "facing uncertainty" about when or where they will be able to access a test.
Meanwhile, Mayor of Greater Manchester Andy Burnham said the system's struggles have come "at the worst possible time".
He told BBC Two's Newsnight: "I think we have got two or three weeks to fix these things. If we don't, the worry is we'll never regain control as we go into the rest of the autumn and winter."
Leading figures in Whitehall are braced for a difficult winter with the possibility of further increases in Covid-19 cases among the more vulnerable elderly population.
"This is going to be a problem for six months and I think anyone who thinks otherwise is extremely optimistic," a senior source said.
The latest data shows that 153 coronavirus patients were admitted to hospital in England on Sunday (September 13), the highest number of new admissions on a single day since July 1 when there were 201.